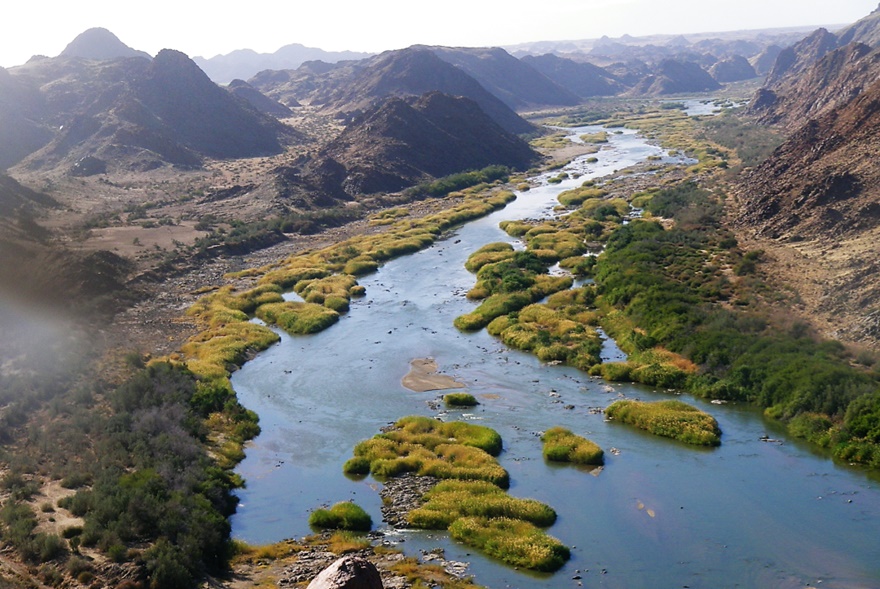 The most spectacular rafting route on the Orange River lies about 200km below Kakamas in the Northern Cape. The Orange River Gorge is not the Augrabies Gorge (famous for the Augrabies Falls). The Gorge also have a little known but spectacular falls – the !Gariep or Ritchie Falls (no-one knows who Ritchie was, so we prefer the indigenous name).
This is a desert environment, and hot. We rarely go to the Gorge in summer, because it's too hot with temperatures soaring to 45-50deg C out on the rocks. The main season is between April and September when daytime temps are usually between 18-30 deg C.  Nights in midwinter can be cold but seldome freezing.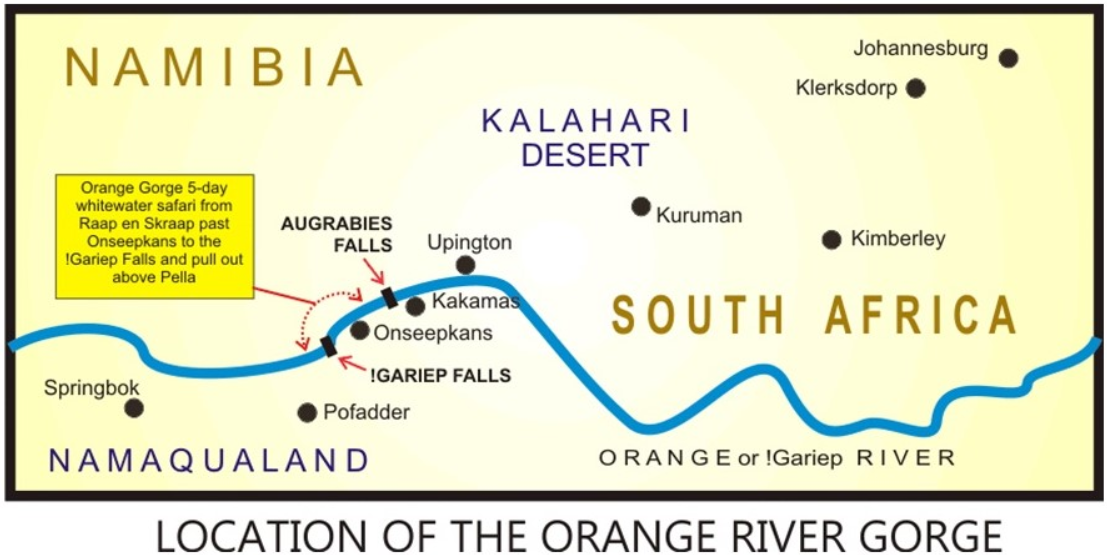 The !Gariep Falls plunge into the river through tunnels and down narrow channels. Pronounce !Gariep with a click to start! The scenery is amazing, with the Gorge resembling a kind of Moonscape, bare rocks and dry mountains.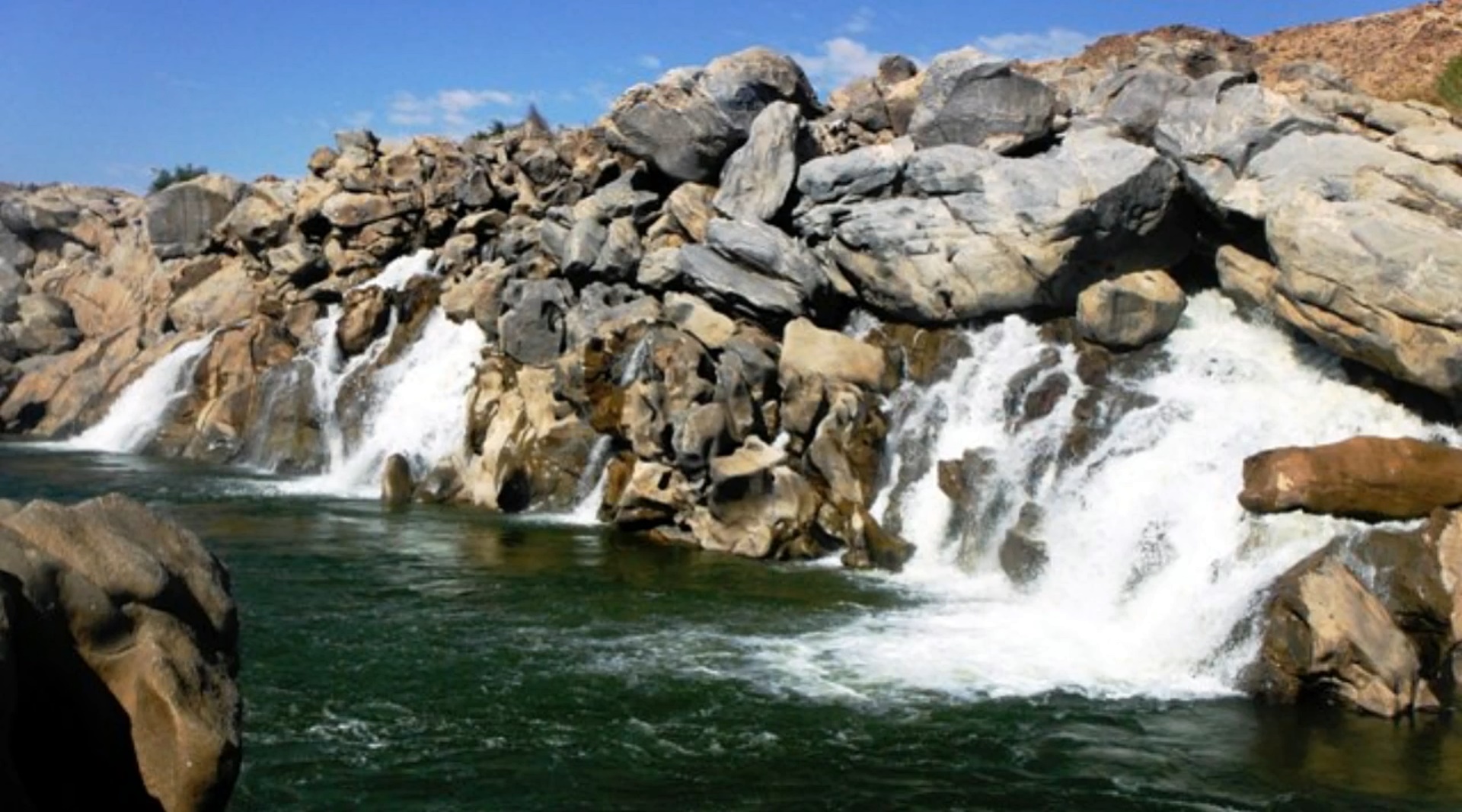 The Gorge is an adrenalin-pumping route, starting easy and building up to Class 4 rapids. The most famous rapid is Big Bunny, so named after a German participant who said "Verr iss der Beeg Rabbit?" Many other rapids are scattered along the route.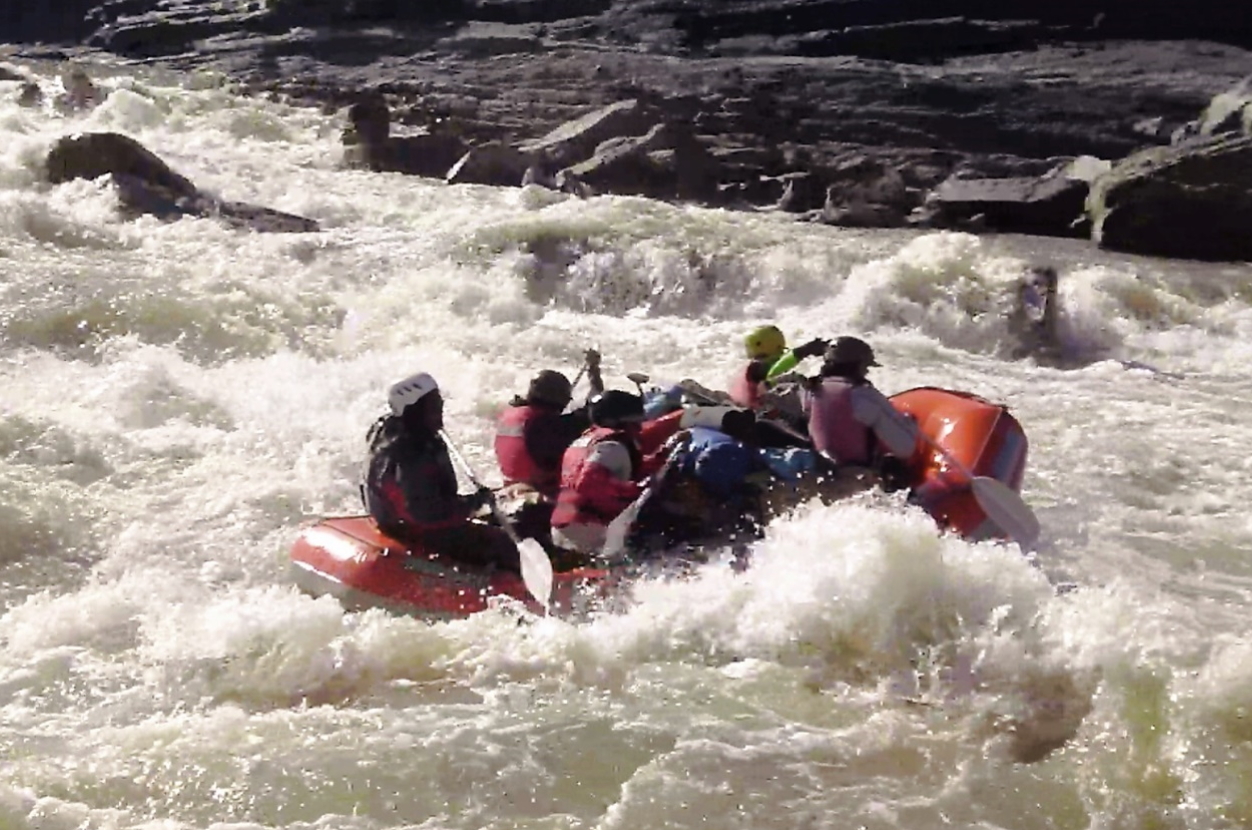 Families with teenage kids from 8 years old are welcome. This route Ideal for teambuilds and school groups. We usually include trainee river guides in these trips for them to gain experience. Go here for details of guide training for the legal qualification.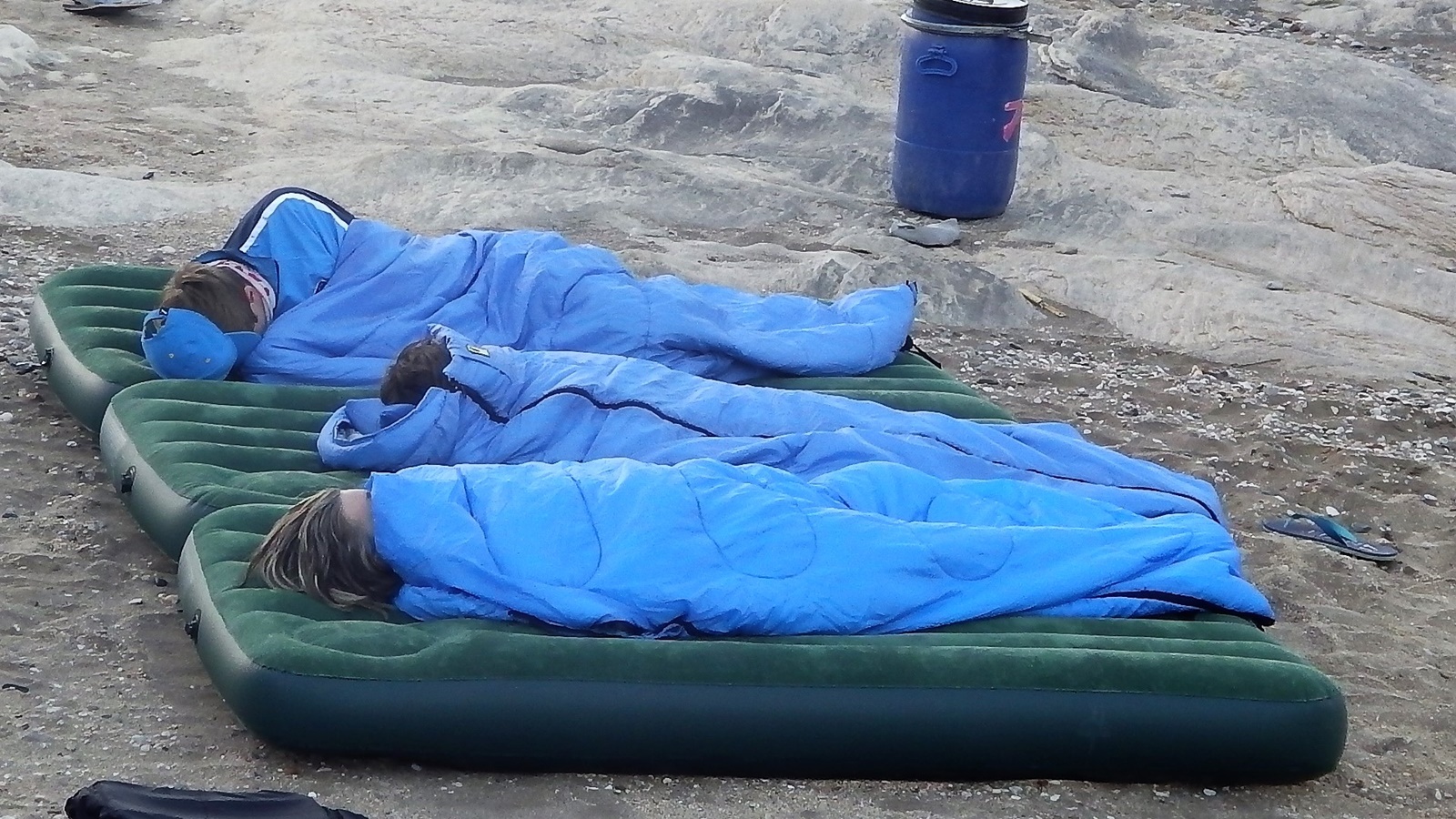 The beauty of the Gorge is that it is completely remote in a landscape that takes you into another world. The Gorge is formed by a macrofault in the granite where the continent appears to be splitting apart. (This is not going to happen while we are there!). Tiny earthquakes – tremors we don't even feel – are being recorded as seismologists study the landform.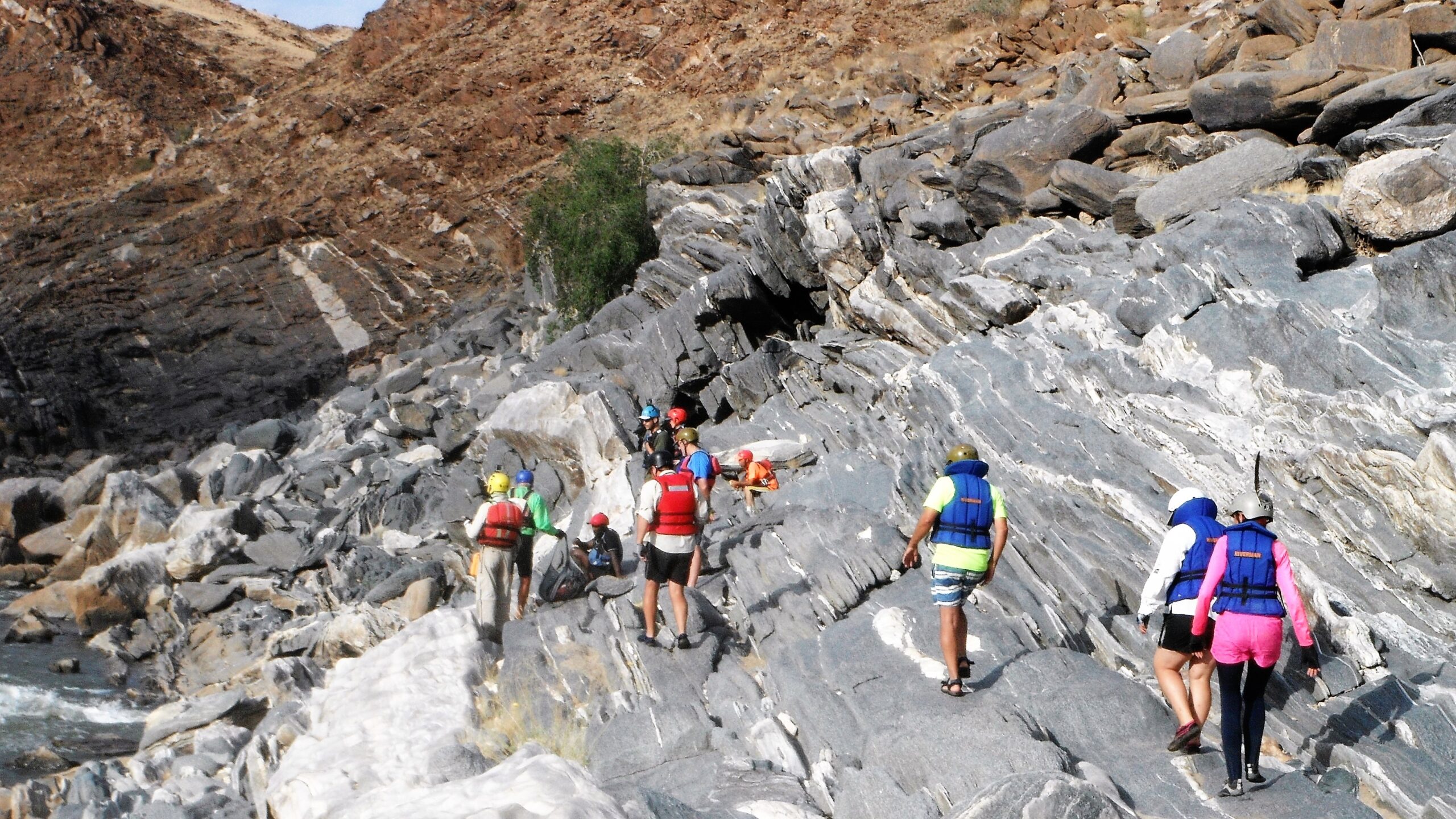 The Gorge trip is widely regarded as the best rafting in the country. The variety of the landscapes, the rapids, the desert vistas, the impressive campsites and the professional leadership make this our Gold Class tour.